England
How long ago seems 2019, not only the confident run to the World Cup final of a team younger than any finalists of the professional era, but also the dazzling attack yielding 24 tries in that year's Six Nations. Quite how England find themselves with a new coach and a rebuild less than a year from the next World Cup will flummox rugby historians. Fantasists boo when England don't win; realists appreciate now is by far the most competitive era international rugby has ever known. Fantasists won this particular debate. England face a crisis at hooker and a tall order to emulate their title of only three years ago (it is also easy to forget).
Key man: Ben Earl. One of a range of thrusting alternatives available to Steve Borthwick. Realists will note that a back row needs unseen grafters, but Earl's form and levels of graft are of the stunningly visible variety.
France
Everybody's second favourite team, and why not? They are young and their key players conform nicely to the jouer stereotype of French legend. What's more, they are a lot of people's favourites, full stop, for this year's World Cup, which will be held in France. Including, tellingly, the bookies. Can they handle the pressure? Only Gael Fickou has more than 50 caps. They will be without Jonathan Danty, a key cutting edge in midfield. And they are grand slam champions no less. Everyone may love them, but opponents on the field tend to show less affection to those.
Key man: Damian Penaud. It might be an exaggeration to describe him as the man who makes France tick (everyone knows that is the peerless Antoine Dupont), but if Penaud is playing well, so generally are France. As an all-round genius he bears comparison with his captain – and few others in the world.
Ireland
Might not be quite so well loved as France, but that makes them no less dangerous. No 1 in the world these days, a ranking they have held since prevailing for the first time in their history on New Zealand soil in the summer. They will enjoy home advantage against France and England, the other two Six Nations teams in the top five. Most of the team play regularly together in the colours of Leinster and have yet to lose a match this season.
Key player: Tadhg Furlong. Like Ireland's perennial key player, captain Johnny Sexton, Furlong has been out with an injury in recent weeks but is expected to be fit, like his captain. Not only is his all-round solidity what Ireland are all about, but his lightness of touch fits snugly too. Just a great all-rounder.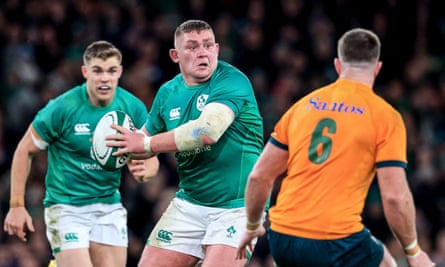 Italy
As a weary refrain, the question – when are Italy going to become a force? – is second only in its familiarity to when will the USA. Well, wake up, kids, because they reckon it might just be happening. Italy have struggled as much as anyone to shake off the legacy of amateur administration. The word is, this has been achieved….


Read More: Six Nations 2023 guide: France and Ireland look the teams to beat | Six Nations 2023-01-30 14:49:00