Celtics
A West Virginia player made an "inappropriate gesture" to Smart, prompting a technical foul and an OSU rally.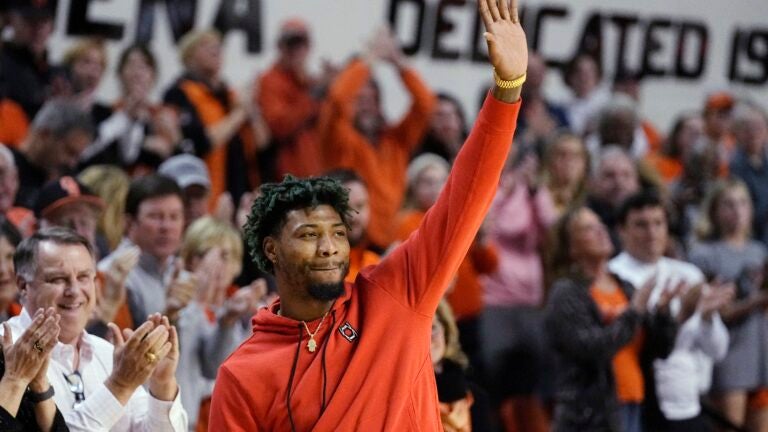 Even though he was just watching the game, Celtics guard Marcus Smart helped his alma mater Oklahoma State pick up a conference win against Big 12 foe West Virginia Monday night.
With just over seven minutes to go, West Virginia was cutting into a double-digit Oklahoma State lead. The Mountaineers were enjoying a 9-2 run, thanks to three consecutive 3-pointers from Erik Stevenson.
According to Jacob Unruh of the Oklahoman, Stevenson made a comment and an "inappropriate gesture" towards Smart after he hit his last 3-point shot.
Officials whistled Stevenson for a technical foul, and Stevenson fouled out shortly after. Oklahoma State outscored West Virginia 13-5 in the final minutes and came away with a 67-60 victory.
"It's a huge change," West Virginia coach Bob Huggins said. "He knows better. Kenyon Martin was a fiery guy. Kenyon Martin didn't do stupid things to get technicals and hurt his team. But he was fiery guy. Pete Michael was a fiery guy. I've had a lot of fiery guys, but I haven't had any hurt their teammates. That's not right."
Oklahoma State coach Mike Boynton Jr. thanked Smart for drawing the technical foul and spoke about the significance of Smart's presence at the game.
"I can't overstate how important the former players to our program are," Boynton Jr. said. "And when you talk about recent successful players who got all the way up to the maximum level, he's right up there along with [Detroit guard] Cade [Cunningham].
"For him to take his time, take time out of his schedule, they played last night, they play tomorrow, he could have easily just said I need some rest. To come up here, support these kids, to go up here in this locker room and deliver a message that coaching is supposed to be hard, it's not supposed to be comfortable, is super significant."
Sign up for Celtics updates🏀
Get breaking news and analysis delivered to your inbox during basketball season.




Read More: Marcus Smart sparked 'huge change' in Oklahoma State win 2023-01-03 15:05:00