French tennis player Benoit Paire and Stan Wawrinka are very good friends. And because they are friends, they can make fun of each other. In a recent talk, Benoit cracked a joke about Stan's Olympic Gold medal win back in 2008. Check out what he said.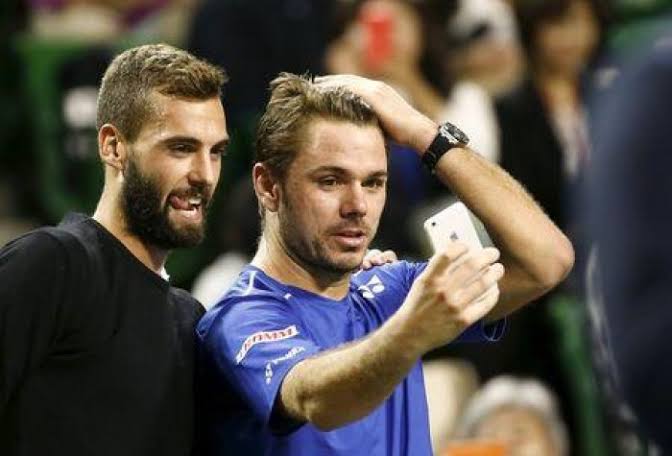 Benoit Paire On How Stan Wawrinka Got The Gold Medal
Benoit Paire recently had a chat with Gael Monfils and Kristina Mladenovic. In that talk, he made a joke about how Stan Wawrinka won the gold medal at the 2008 Beijing Olympics only because of Roger Federer. He said,
"Stan thinks he's better than me. He got the gold medal at the Olympics only because he was with Roger Federer. If I played with Roger, I would have also got the medal. Roger told him, 'you just serve, you put yourself to the side' and he got a medal for that."
Stan has not responded to this joke yet but he probably will soon. And we can expect this response to be as funny as Benoit's joke if not more and it is something I am sure everyone is waiting to see.
The 2008 Beijing Olympics
While Benoit Paire decided to make fun of Stan through the 2008 Olympics, it was one of Stan's biggest achievements. He and Roger Federer played amazing tennis throughout the tournament dropping only a single set to win the Olympic Gold Medal.
This was only the second time Switzerland had won an Olympic Gold in tennis and the first time they won it in Doubles. And that is why Stan and Roger are extremely proud of this achievement even though they have won a lot more in tennis.
Sadly, they have not won the Gold Medal together since then but they are definitely hoping to do it again. They could have done it this year but sadly the coronavirus pandemic postponed the Olympics to 2021. And hopefully, they can achieve their goal at that time.


Read More: "He Won It Only Because of Roger Federer" – Benoit Paire Makes Fun of Stan 2020-06-02 11:52:00