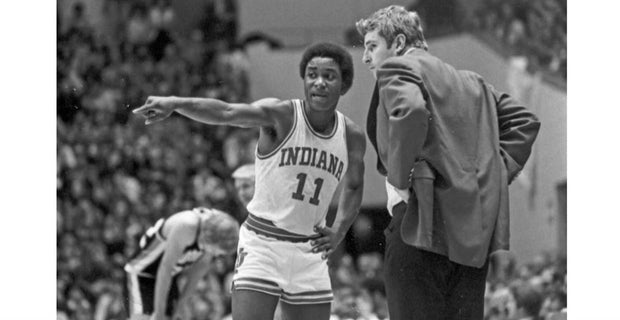 Isiah Thomas (1979-81) – not a hard choice here to be Thomas at the top. When you look at an entire basketball career, Thomas is the best ever to play a game in a Hoosier uniform. 
While his stay in Bloomington was limited to just two seasons, those two years saw Indiana win the regular season Big Ten title and in 1980-81, the Hoosiers took home the program's fourth national title.
What made the 1981 title team special was that team won its NCAA tournament games by an average of 22.6 points, and never won a game by less than 13 points. A big reason was the level of play by Thomas, who had 19 points and a couple huge steals in the second half in the 63-50 title game win over a North Carolina team that featured future NBA stars James Worthy and Sam Perkins and All-American forward Al Wood. He was the easy choice for Final Four MVP after the game.
It was a big deal when Thomas was signed out of Westchester (IL) St. Joseph's by Indiana, as he was the consensus No. 2 ranked prospect in a 1979 high school class that may have been the best of all time. You had Ralph Sampson, Worthy, Sam Bowie, Dominique Wilkins, Clark Kellogg, Steve Stipanovich, Byron Scott, the list goes on.
The hype for Thomas was huge, especially since before even played a game for Indiana, he was on Bob Knight's 1979 gold-medal winning team in the Pan-American Games.
As a freshman, Thomas averaged 14.6 points and 5.5 assists per game, shooting 51.0 percent from the floor. As a sophomore he took care of the basketball better, and upped his numbers to 16.0 points, 5.6 assists and was 55.4 percent from the floor.
Thomas became the second overall pick of the 1981 by the Detroit Pistons, and would go on to win two NBA titles there. 
A serious Achilles tendon injury was a big reason why Thomas retired in 1994. His post-playing career has been an interesting one. He was part owner and Executive VP in the early years of the Toronto Raptors franchise, later became owner of the CBA and he had two NBA (Knicks and Pacers) and one college (Florida International) head coaching stints.
In 2017, Thomas was recognized by one of the Greatest 50 Players in NBA History, a list put out by the league on its 50th anniversary. 




Read More: Indiana Basketball All-Decade Team: 1980s 2020-05-31 13:48:40